JMBM Named as a 2015 Best Law Firm in Land Use and Zoning Law
JMBM's Land Use Group Recognized for Third Year in a Row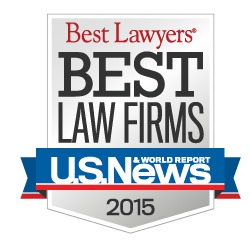 LOS ANGELES – Jeffer Mangels Butler & Mitchell LLP (JMBM) is pleased to announce it is has been named a 2015 Best Law Firm by U.S. News & World Report / Best Lawyers® and is recognized with a Metropolitan First-Tier Ranking in the area of Land Use and Zoning Law. This is the third year in a row that JMBM's Land Use practice has been included in the first tier for Metropolitan Los Angeles.
"Our clients are involved in development projects that range from urban mixed use developments and master planned communities, to coastal development and industrial siting. We are also involved in both traditional and renewable energy projects, representing the land use and environmental needs of solar energy companies as well as those in the oil and gas industry," said Benjamin M. Reznik, Chair of JMBM's Government, Land Use, Environment and Energy Department and publisher of the California Land Use Blog.

The Best Law Firms ranking is based on client and lawyer evaluations, peer review from leading attorneys in the same field, and a formal submission process. Lawyers are not required or allowed to pay a fee to be included.
"We are particularly pleased to be recognized as a Best Law Firm, as it reflects the trust and confidence of our clients and peers," said Reznik. "More than just steering them through the entitlement and permitting processes, our clients know they can count on us to vigorously advocate for their development projects before government agencies, community groups, and in court, when necessary."
Reznik and his team are involved in the full spectrum of real estate development entitlements, zoning and environment issues, including frequent appearances before city planning commissions, city councils and other governmental boards and agencies on behalf of real estate development firms and various industries.
About JMBM's Land Use and Zoning Practice
JMBM's particular strength is handling all permitting and compliance issues for businesses seeking to locate and develop new sites, relocate or expand operations. Projects that JMBM's lawyers have helped move through the approval process include residential developments and apartment complexes, hotels, shopping centers, theaters, office buildings, and a wide range of industrial projects such as mines, energy plants and manufacturing facilities. For more information, contact Ben Reznik at 310.201.3572 or BMR@jmbm.com.
About JMBM
Jeffer Mangels Butler & Mitchell LLP (JMBM) is a full-service law firm committed to providing clients with outstanding results. From our offices in Los Angeles, San Francisco and Orange County, we serve our clients' needs worldwide. For more information about the full range of legal services provided by our attorneys, visit www.jmbm.com.
About the U.S. News Media Group
The U.S. News Media Group is a multi-platform digital publisher of news and analysis, which includes the monthly U.S. News & World Report magazine and the digital-only U.S. News Weekly magazine. For more information see www.usnews.com.
About Best Lawyers®
Best Lawyers® is a respected peer-review publication in the legal profession. Best Lawyers® lists are excerpted in a wide range of general interest, business and legal publications worldwide, reaching an audience of more than 17 million readers. For more information see www.bestlawyers.com.
U.S. News & World Report is a registered trademark of U.S. News & World Report, L.P. Best Lawyers is a registered trademark of Woodward/White, Inc.