Ben Reznik
Why is the City of Los Angeles singling out the Deputy Foreign Minister of Saudi Arabia and forcing him to follow procedures never before imposed on others in order to allow him to build his home in the Benedict Canyon neighborhood of Los Angeles?
That's a question being raised following the recent Vanity Fair article written by Michael Shnayerson, There Goes the Neighborhood, about my client Prince Abdulaziz bin Abdullah bin Abdulaziz al-Saud, the current Deputy Foreign Minister of Saudi Arabia.
For some inexplicable reason, the City of Los Angeles Planning Department is erroneously maintaining and insisting that the Prince's entity developing the project, Tower Lane Properties, Inc., must undergo additional, unnecessary and inapplicable steps in the plan check review process, before the project is cleared for construction. However, other similarly-sized residential projects in Benedict Canyon and nearby neighborhoods were built without being subjected to any such additional review whatsoever. A 35,046 square-foot home on North Carolwood Drive, a 45,891 square-foot home on Bel Air Road, and a 52,503 square-foot home on S. Mapleton Drive, to name a few, were all built without the City of Los Angeles subjecting them to this procedure. It's not even the largest residential project in the area. [SOURCE: City of Los Angeles Department of City Planning, Los Angeles County Assessor's Office]

What the City is asking of the Deputy Foreign Minister of Saudi Arabia is not only without precedent – it is wholly inconsistent with how the City has treated other larger residential projects. Prince Abdulaziz has proposed a house project that fully complies with all the zoning and building codes. In other words, the house project does not require a single variance, exception or adjustment from the city zoning & building codes. This seems to have frustrated those neighboring opponents who have been searching for legal means to stop Prince Abdulaziz. Yet, the inconsistency and unfair treatment of the Deputy Foreign Minister does not stop there. In an effort to accommodate the group of wealthy neighboring opponents, the City of Los Angeles is resorting to a section of the city code that applies only to a "Tentative Tract Map" – part of the administrative approval process for subdivisions of five or more properties, and applying it to the Prince. The City has never before applied this code section to a house being built on a single lot where the owner does not seek to subdivide it. [SOURCE: Los Angeles Municipal Code 91.7006.8. and Department of City Planning records]
Prince Abdulaziz's project does not require a tract map precisely because it isn't a subdivision. The Prince does not wish to subdivide his property. It doesn't get much clearer than that! Yet at a time when you would think the City of Los Angeles would be doing all it can do to foster and encourage a positive development climate, the City is going out of its way to thwart a residential project that will bring new construction jobs and millions of dollars in revenue.
With such a flagrant misapplication of local zoning laws, one has to be very concerned about the negative impact the City's actions could have on future residential developments within Los Angeles and the regressive climate it is creating in turn. Discouraging residential development projects isn't just bad for the City's business – it's bad for the City's bottom line as well.
I'll continue to update you on this important Los Angeles land use issue as it moves forward.
---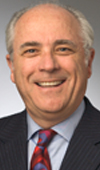 Ben Reznik is the founder and chair of the Government, Land Use, Environment and Energy Department at Jeffer Mangels Butler & Mitchell LLP. Ben's practice emphasizes real estate development entitlements, zoning and environmental issues. He appears regularly before planning commissions, city councils and other governmental boards and agencies, as well as the courts. Ben and his work have been featured in the Los Angeles Times and the Los Angeles Business Journal, and he has been included in the Los Angeles Daily Journal as one of California's "Top 100" lawyers. Ben leads a group of distinguished attorneys whose work has resulted in JMBM's inclusion in the U.S. News & World Report / Best Lawyers® list of Best Law Firms (2011-2012) with a National First-Tier Ranking and a Metropolitan First-Tier Ranking (Los Angeles) in the area of Land Use and Zoning Law. Contact Ben at BMR@jmbm.com or 310.201.3572.